Features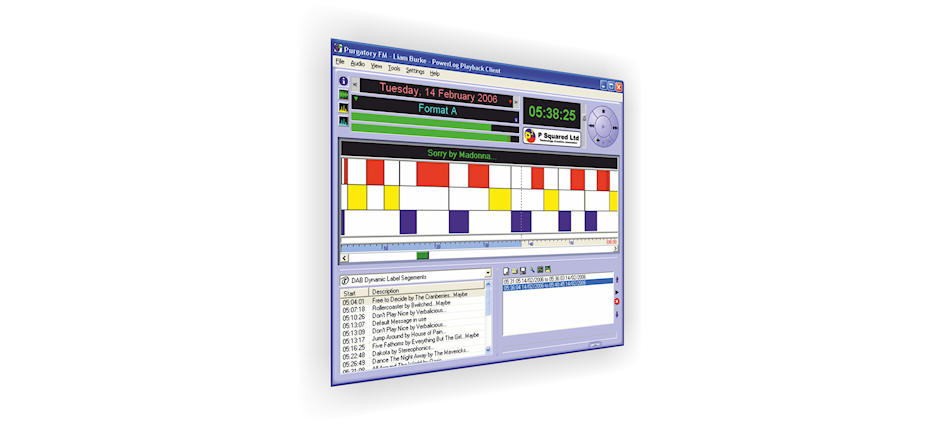 PowerLog is a multi-channel software based audio and data logging system. In fact it was the first system of it's kind in the UK and is now the most commonly used system in UK commercial radio. The basic idea is that PowerLog records one or more incoming audio feeds and keeps them on the hard disk for a set time before finally removing them, thus creating a maintenance free, rolling log.
The success of PowerLog however, can be attributed to the additional facilities that we added to the basic premise. These included logging of hardware I/O which allows stations to log when the presenter 'mics' are open, silence detection, DAB text logging, RS232 logging and more.
In addition, PowerLog has the ability to have up to three different quality levels within a single logged period. This means that you can have your logs at high quality linear for the first few days, then drop down to a lower quality for a few weeks before dropping to the final quality level for archive.
The final ingredient in the PowerLog sandwich is the PowerLog Client which is a free piece of software that can be installed on any PC in your station and offers virtually instant access to any point in any of the available logs. You can also view all the hardware events, DAB text and recorded silences. The PowerLog Client allows you to grab any sections of the log and extract it at any quality and in any supported format, so whether your are reviewing your log, making promo's, sending ROT's (Record Off Transmission) to advertisers or tracking down a problem, the PowerLog Client is all you need.
Powerlog Lite
Following in the footsteps of it's big brother, PowerLog Lite offers all the rock solid reliability and basic functionality of PowerLog without all of the frills.
Designed for stations that just needed a singe stereo (or two mono) logs and don't need all of PowerLog's more advanced features, PowerLog Lite offers a lower cost route that makes PowerLog technology accessible to all stations.
PowerLog Lite allows you to record one stereo or two mono logs and maintains PowerLog's ability to keep three quality levels across the logged period. PowerLog Lite uses the same PowerLog Client as it's big brother and so retains most of it's powerful features. 
Key Features
Multi-channel audio and data logging, recording the data and audio that you want, at the quality (and format) you want for as long as you want.

Log up to 16 mono channels on a single PC for as long as you want at whatever quality you want. (not available in Powerlog Lite)

Up to three configurable quality levels per mono channel so you can control when to compromise quality for disk storage space.

Expired logs are automatically removed from the system to maintain the 'rolling log' period.

Customisable multiple formats per mono log to allow you to have several versions of the same log available.

Create 'directory' listings of all the PowerLog Capture systems in your group and access them all from a single Client.

Supports multiple audio formats including PCM (linear), ADPCM, MP2, Ogg Vorbis and Windows Media Format.

Log hardware events (such as when the 'mic' channel is open), DAB text, RS232 streams etc.

Automatically detects silent periods and makes a note in the log. It can also email you to let you know and even email you a summary of silences for the past 24 hours each morning.
Virtually instant access to any point in any log via the free PowerLog Client software.

Install the PowerLog Client on any PC on your LAN / WAN that has network access to your PowerLog Capture box.

View audio, hardware events and DAB / RS232 text simultaneously.

Mark and extract sections of the log in seconds to allow you burn to CD, edit or create promo's.

Ask PowerLog Client to compile and extract lists of hardware events. You want every time the presenter 'mic' was open in the breakfast show for the past six weeks - you got it.

The free PowerLog Monitor software checks the health of your PowerLog Capture systems every few seconds and lets you know if there are any potential problems.

Plus way too many other features to list....
Powerlog Gallery
Buy Direct From Our New Online Store