Options & Modules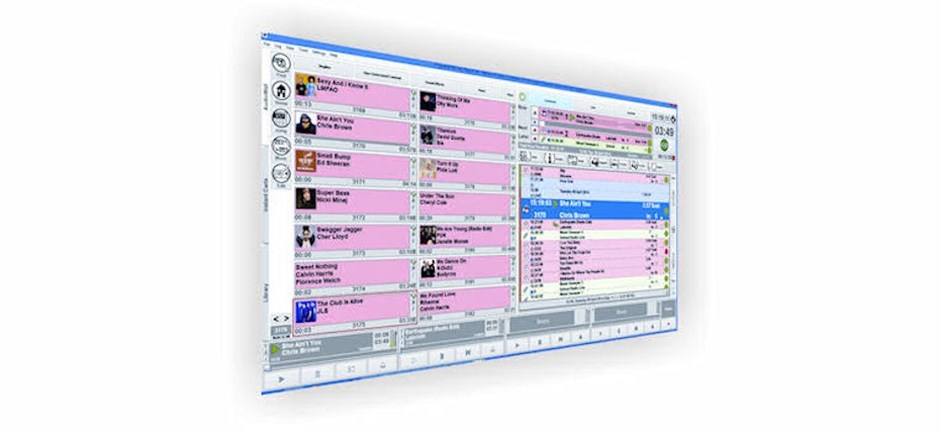 Myriad Playout is available in a number of configurations and there are also numerous options and modules to help build a complete playout solution for your station. We would always recommend that you speak to one of our expert team in order to determine what standard and optional modules you will need but the information below outlines what is available in the Myriad Playout range.
Myriad Playout - License Types
There are three different license types available for Myriad Playout
Myriad Playout Studio License - Full broadcast studio license needed on Myriad workstation that will be used for broadcasting. Ideal for on-air studios and automation PC's.
Myriad Playout Admin License - An administration license used for adding content, voice tracking and log editing. Ideal for production studios or voice tracking booths.
Myriad Playout Lite License - Content contribution license used for adding content to the Audio Wall.
Each Myriad Playout License Type is priced accordingly meaning that you need only pay for the features you need on a given workstation so a typical radio station may only need a couple of Myriad Studio licenses to cover their on-air studios but have additional (lower cost) Myriad Admin licenses in the production studio and presenter preparation areas.
Feature
Myriad Studio License
Myriad Admin License

Myriad Lite License

Audio Wall

Audio Search Tools, Cart Playback, Cart Recording, SmoothEdit Audio Editing, Move & Copy Audio, Import Audio Functions, Export Audio & Transport Files, Cart Pad Playlist Tool

Instant Carts

Quick Cart Playback Interface, Shared and Personal Sets

Manager

Play Log & Copyright Reporting, Mass Audio Manipulation, User Security & History

Library

Advanced Song, Link & Advert Search Tools – Scheduling History and Clash Warnings

 

Segue Editor / Voice Tracking

Local Voice Track Recording, Advanced Segue Editing with Fade Manipulation

 

Station Log

Manual Log Manipulation, Import & Export Log Sections, Multiple Log Entry Cut & Paste

 

Log Importer

Import Log Files from 3rd Party Music & Advert Scheduling Systems

 

Instant Track

Simple Music & Link Scheduler

 

Live Assist & Automated Playout

Full Automated Playout – Live, Auto, AutoFADE modes, Auto Fill Under Running Log, Auto Log Creation

 
 

The Dashboard

Log Playout Status

 
 
You can also download this comparison table here.
For more information on which Myriad Playout license type is most appropriate for specific roles in your radio station, contact our team today.
Applications & Optional Modules For Myriad Playout
There are a number of additional applications and optional modules that are used to enhance the functions of Myriad Playout. The lists below outline the available applications and modules as well as the role they play in your overall station. Click on the tabs to see the applications and options in each section.
The following applications and modules are installed as part of every Myriad Playout installation at no additional charge.
Myriad Manager - Provides administration tools and reports and lets you control how much access to your Myriad system each user gets.
Myriad CD Ripping Module - Allows you to 'rip' audio from CD's directly in to Myriad. The Myriad ripping module also performs a 'digital top', normalisation and optional compression of the ripped audio and can scan your Audio Wall for existing Carts with similar Title or Artists.
Myriad Mass Import Wizard - Provides a tool for importing one or more digital audio files as well as removing silence from the beginning of audio, normalising audio, importing meta-data and converting format. Supported import formats include WAV, MP2, MP3, WMA, OGG, M4a, MP4 & AAC.
Myriad Emergency Recovery - If all else fails, this utility allows you to configure Myriad's basic options even if Myriad itself can not run.
P Squared Support File Generator - Generates support files to allow us to diagnose issues quickly and effectively.
Myriad Log Import Wizard - For stations using third party music  and advert scheduling systems such as Selector (tm) and Broadnet(tm).
Myriad Audio Wall Processor - The Audio Wall Processor application allows you to mass change the Carts on your Myriad system. Whether you are changing format, normalising or deleting Carts, this tool saves you time and effort.
Myriad Podcast Creator - Upload Carts as Podcasts to your website including XML Meta data files. Makes Podcasting a breeze! 
All of the above programs are included in each and every Myriad license that your station purchases.
This low cost collection of applications extends Myriad Playout to cover all common tasks in a modern radio station.
Myriad AutoTrack (Standard)  - Intelligent Music and Jingle scheduling system. Includes basic Link scheduling for a complete station scheduling solution. (See Autotrack section)
Myriad Advert Manager - Offers simple advert scheduling facilities for stations with less demanding traffic needs.
Myriad OCP - Provides 'live' updates including text, links and pictures to web and WAP sites as well as text info to Digital Radio (DAB) services.
Myriad AudioWall Auto Importer - This simple application allows you to automatically import audio files into your Myriad system or update existing files by dropping them into an 'active' folder.
The Myriad Application Bundle offers a cost effective way of purchasing optional support applications. Applications within the bundle can also be purchased individually.
All these great applications are available in a single, low cost package. Contact our team for more details.
Although the standard Myriad Playout package plus the Support Application Bundle includes all the tools the average station needs, there are also a number of ways in which you can expand your system to be more flexible or to meet the specific needs of your station. These include:
Remote Voice Tracking Module - Remote Voice Tracking extends the standard Voice Tracking facilities in Myriad to include voice tracking on remote computers via the Remote Voice Tracking client. This allows you to include voice tracked shows from presenters unable to physically get to your studio.
Myriad Network - This additional module allows you to deliver alternative advertisements and jingles to separate transmission paths or geographic areas. Network allows you to deliver localised content during networked shows, maximising revenue whilst minimising costs.
Myriad Anywhere - Myriad Anywhere is a thin client for controlling your main Myriad system remotely over a low bandwidth connection (like a 3G data connection). Ideal for outside broadcasts.
Myriad Monitor - Myriad Monitor allows you to monitor multiple Myriad and Myriad Network applications from a single screen making it ideal for network centres, program controllers or engineering control rooms. All this is done with low demand data connections so it will not flood your network with data.
Myriad Network Master & Director - The Network Master & Director applications are used to control and configure complex broadcast network systems.  
Myriad AutoTrack Pro - The ultimate upgrade to the AutoTrack Standard music scheduling system offering a quantum leap in power, versatility and control. For more details see AutoTrack Pro.
Myriad OCP+ - Builds upon the excellent foundations laid by OCP with more configurable Formats and Outputs plus the ability to run multiple services from a single OCP box.
Myriad SafetyNet -SafetyNet provides a simple and effective method of deploying an emergency backup solution 'armed and ready' to take over on-air duties in the event of a primary system failure.
Myriad AutoPlayer - This simple application can play either an individual Cart or a list of Carts (saved from the Pad) at a specific date and time. You can build up a calendar of Carts and Cart Lists to play making a very simple scheduled playout system (ideal for broadcasters that want to schedule programs to play at specific times but not have Myriad playing continuously).
These applications and modules are available individually. Contact sales for more detail.
Buy Direct From Our New Online Store