Features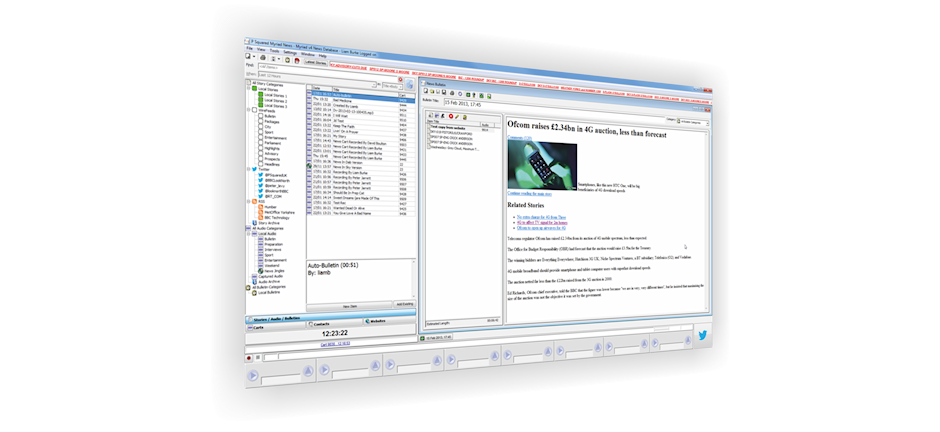 Myriad News is an 'end to end' paperless newsroom system designed for radio stations of all types and sizes. Journalists combine captured content with their own stories to provide bulletins for delivery on-air and on-line.
Myriad News can aggregate information from a range of news sources including IRN News, Sky News, Emails, RSS Feeds and Twitter(tm).
Captured text, audio and pictures can be combined with your own originated content produce media rich stories and bulletins.
The 'Live Read' mode makes creating live bulletins a breeze and stories can be published to your website (including pictures and text) as well as being posted in social media (such as Twitter).
Finally, content can be shared between Myriad News sites, archived or automatically deleted after a set time period.
Key Features
Capture audio, text and images from a wide range of news services and social media sources.
Automatically categorise content and tag captured stories with customisable 'key words'.
Instant access to all captured and generated content for all of our journalists.
Have a team of journalists reworking captured content and adding their own original stories, audio and pictures.
Compile local and national stories in to bulletins for deliver on-air and on-line.
'Live News Playout' presents your news reader with scripts and audio for paperless bulletins.
Stories can be published to your website or your social media pages (Twitter and Facebook).
Share stories and audio around your group with the Myriad News Distribution system.
Myriad News Gallery
Buy Direct From Our New Online Store