Features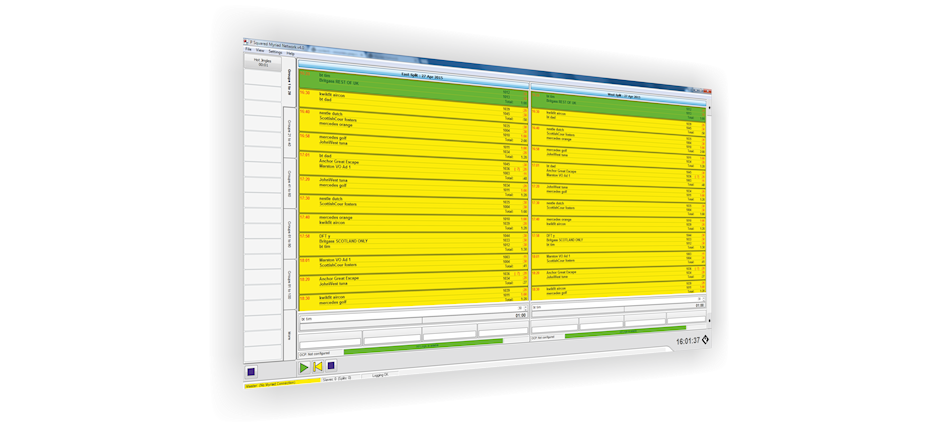 Split Advertising & Branding
Myriad Network expands the standard Myriad package to allow it to provide split advertising and branding to diverse transmission paths or geographic areas or to allow Myriad to fit in to and interact with networked programming.
The idea for split transmission is simple, all the music, speech, non-networked jingles etc are played in from the studio Myriad system in the normal way but all split advert breaks and split jingles are played by the Myriad Network pc's with one Myriad Network output per split.
When a split advert break or split jingle is needed, the central Myriad system instructs the Myriad Network machines to play the appropriate split jingle or advert break and then effectively waits for Myriad Network to tell it that it has finished.
All this is done using real time, two way communication over TCP/IP or alternatively, in a passive way using hardware events (if no network connectivity is available).
Advanced Networking
The simplest form of 'split transmission' is in a single station with two or more transmission paths that need to be have separate advertising, branding or both. In this scenario, everything is physically in one location with most station content coming from the studio with Myriad Network playing adverts and split jingles when required, to the disparate transmission paths.
But Myriad Network can offer much more than that. By removing the requirement for the Myriad Playout studio and Myriad Network systems to be in the same location but retaining the intelligence provided by real-time IP connections between the studio and the Myriad Network systems, we are able to provide complex, real-time network solutions with network control moving around your radio group and network 'opt-in/opt-out' on a group, cluster or individual station basis.
So when we say Advanced Networking, we really mean it! 
Myriad Network Modules
The complete Myriad Network solution consists of three modules that can be deployed to create a bespoke solution for your networking needs. The modules are:
Myriad Network - Local playout of adverts, jingles and other content. This module is controlled by the central Myriad playout system or from Network Master system. Each Myriad Network PC can play up to four separate 'split' outputs.
Myriad Network Master - This module provides a top level controller at each site that controls the local Myriad Network outputs and also gathers information and reports back to a central Myriad Network Master which in turn reports to the 'on air' studio.
Myriad Network Director - This module offers flexibility to your system by giving you a simple graphical interface to control how your network is configured. This is ideal for groups that move 'central playout' between different sites or have sites that opt in and out of network control.
Network splits have never been easier. Myriad shows what's happening around the network and alerts before things go wrong!

Dave Brierley-Jones, Real and Smooth Radio
Key Features
Single or multi-site split transmission solution.

Play localised adverts, jingles, beds, stabs and any other content.
Up to four split outputs per physical PC (subject to license).
Control from local or remote studio location.
Miss-matched breaks reported back to control Myriad Playout Studio workstation.
Split 'Hot Keys' for local branded 'spontaneous' playout.
Highly adaptable network topology, adjustable 'on the fly' using the option Network Director software.
Full network advert reconciliation.
Hardware time stretching available with selected sound devices.
Myriad Network Gallery
Buy Direct From Our New Online Store