Features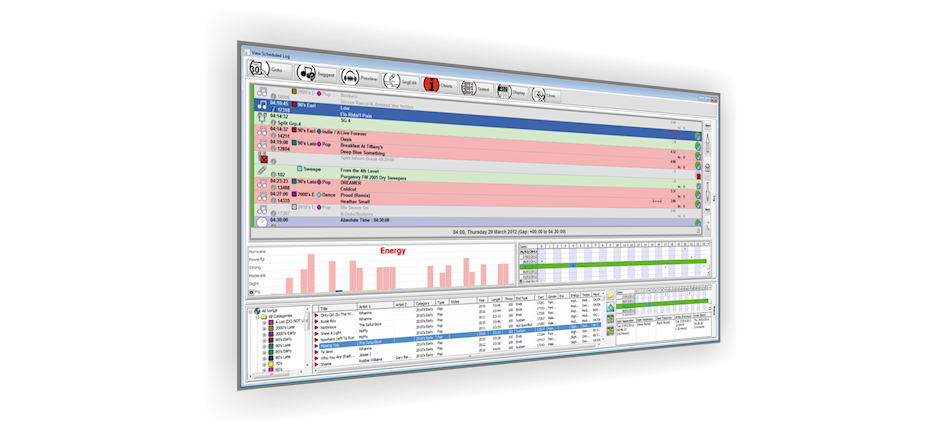 P Squared's innovative music and link scheduling solutions offer a range of tools and facilities to allow you to produce lively, natural sounding 'live assist' and automated program output regardless of the size, nature and format of your station.
Based on more than a decade of development, the AutoTrack product range allows you to create music policies, clocks and rules that reflect the sound that you want for your station. This means that you have total control over the way your station sounds without having to spend hours preparing programs each and every week. AutoTrack is available in two flavours depending on your stations needs. 
Autotrack Pro , which now uses the same database as Myriad Playout, is very user friendly, and quick and easy to make changes, yet an incredibly powerful tool with many new features added such as comprehensive history & warning grids, and lots of rules to tighten up scheduled music. Creating clocks is simple quick and effective. If something changes last minute or is incorrect, it's very easy to change without the need to recreate the entire clock.

Andrew Jenkins - Real Radio Wales
Myriad AutoTrack Standard - AutoTrack Standard includes all the tools you need to create lively and natural sounding live assisted or automated program content. AutoTrack Standard is designed to work specifically with Myriad and includes a great deal of interaction and connectivity between the two systems. AutoTrack Standard is ideal for smaller commercial stations, internet broadcasters and community radio stations.
Myriad AutoTrack Pro - Built on the foundations of AutoTrack, AutoTrack Pro offers a quantum leap in power, configurability and resources. Designed for the rigours of modern commercial radio, AutoTrack Pro combines powerful, customisable rules and features with an intuitive, simple to use interface that offers all the control, without all the headaches. AutoTrack Pro works with the majority of 3rd party playout systems so Myriad and non-Myriad users alike can enjoy the tremendous benefits that the system offers.
Total Log Integration (TLI) - Whether you are using AutoTrack in Standard or Pro editions, when combined with Myriad Playout you get the full advantage Total Log Integration (TLI). TLI is when a single Station Database is used by both Myriad Playout and AutoTrack for the generation and playout of the station log. This means that changes made in AutoTrack are reflected in Myriad Playout in real time and vice versa. This creates a dynamic link between your programming team and your On-Air team for tighter integration and more control over your stations output.
AutoTrack With Other Playout Systems - Whilst AutoTrack Standard and AutoTrack Pro are designed to work hand in hand with Myriad Playout, the system can also be used with an extensive range of third party playout systems thanks to the configurable output file format. As long as your playout system can accept a text format log file then you can enjoy the many benefits of AutoTrack regardless of your playout system.
Key Features
Total Log Integration(TLI) when combined with Myriad Playout.

Advanced music and link scheduling system.

Organise your music in to categories, styles and characteristics.

Add jingles, promo's, sweepers and voice links.

Build up 'clocks' for shows including information about what music and links you want to include.

Assign 'clocks' to your schedule to build a framework for your stations live assisted and automated output.

Apply rules and formats to control the way your station sounds, how often songs and artists come up and which songs can be scheduled when.

Generate weeks of lively automated and live assisted programming at the touch of a button.

Analyse your stations schedule and view the schedule history of songs, artists and links.

Send your completed schedule to your Myriad playout system.

Full interaction with your Myriad playout system.

Get a professional station sound, 24 / 7 without all the hard work.

Compatible with 3rd party playout systems via configurable log output.
In addition to all Standard feature, AutoTrack Pro also offers:
Configurable Rules & Guides - applicable on a per Song / Link category basis to give you ultimate control over every aspect of how your station sounds.

Categorise your Songs by category, type, style, gender, era and characteristics.

Build detailed Clocks and assign them to 'time / date' dependent Clock Assignment Grids for flexibility and variation without the hard work.

Mass, import, change and manipulate Songs and Links and audio to setup and run your system efficiently and effectively.

Review and edit the generated schedule and see how the changes you make clash against the Rules you set.

Manage Artist, Artist Groups, Core Artist Lists and Song Titles to schedule additional information and to control when associated Artists / Songs are scheduled.

Set up Collections of Songs or Links to rotate them as a single item within a category.

Tons of reports, statistics and tools to put the information you need at your finger tips.

Import and export utilities for synchronising multiple databases (ideal for scheduling several stations from a single point).

Compatible with all leading playout systems, you can even generate the same schedule for several different stations using different playout systems.

Total Log Intergration(TLI) when combined with Myriad Playout.

Kicks, shuffles, future moves and kill dates make managing your database effortless.

Copyright report generation from a single station or multiple sites from within a group.
AutoTrack Gallery
Buy Direct From Our New Online Store